509 Vistas Totales, 5 Vistas hoy
Eriez Chile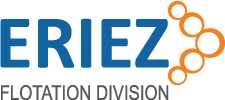 Datos de Contacto
Dirección: Badajoz 130, Of. 1306, Santiago
Fono: (56 2…Ver Completo
Web: Ver Homepage
[flexiblemap address="Badajoz 130, Of. 1306, Santiago" zoom="14" title="Eriez Chile" width="100%" description="Badajoz 130, Of. 1306, Santiago"]
¿Tiene información actualizada de esta empresa?
Ayúdenos a mantener la data actualizada.
Sobre la Empresa | Eriez Chile
Advanced Flotation Technology
The Eriez Flotation Division (EFD) provides advanced engineering, metallurgical testing and innovative flotation technology for the mining and minerals processing industries. Strengths in process engineering, equipment design and fabrication position EFD as a leader in minerals flotation systems around the world.
Applications for EFD equipment and systems include metallic and non-metallic minerals, bitumen recovery, fine coal recovery, organic recovery (solvent extraction and electrowinning) and gold/silver cyanidation. The company's product line encompasses flotation cells, gas spargers, mini-pilot plants, slurry distributors and flotation test equipment. EFD has designed, supplied and commissioned more than 1,000 flotation systems worldwide for cleaning, roughing and scavenging applications in metallic and non-metallic processing operations. And it is a leading producer of modular column flotation systems for recovering bitumen from oil sands.
EFD has also made significant advances in fine coal recovery with flotation systems to recover classified and unclassified coal fines. The group's flotation columns are used extensively in many major coal preparation plants in North America and internationally.
The Eriez Flotation Division was formerly known as Canadian Process Technologies (CPT).